Testimonials
There are many things I can say about the high quality of service I provide to my home seller and home buyer clients, but probably none would be as credible as testimonials from some of my recent clients themselves.
At Coast to Coast Realty, providing excellent service and making sure our customers are fully satisfied is our first priority. So please take a moment to read the following testimonials. I hope they indicate my experience and integrity, as well as make it clear how much I enjoy helping people with their real estate needs.
A large percentage of my business stems from repeat clients who trust me and my associates. I would love to have the opportunity to show you what Coast to Coast can do for you as well.
I would be happy to email you additional testimonials or provide you with recommendations if you are interested.
Ronald, Thank you so much for all the help and support you have provided me in finding my new home. I am so excited! I never would have made it without you. You took care of every possible detail, and I am very grateful. I really appreciate your professionalism, and I will certainly recommend your services to anyone interested in finding the home of their dreams. Luz Rivera, New Tampa
Where the heck were you guys when I bought my first home? I was in trouble when my Lender backed out. You stepped in and made our loan close with another lender! You got into this business to offer a service to people. Thank you!!!! Chuck, South Tampa
Hiring Coast-to-Coast Realty was the best decision we could possibly have made in the sale of our house! Not only did Ronald guide us through an appropriate pricing strategy and position for our home, but he provided a level of service not seen with your average realtor… and we should know.
We hired two realtors prior to Coast-to-Coast in an attempt to sell our home over the last 11 months. While other realtors each had the listing for several months, it took Coast-to-Coast only a few weeks to get us an offer – the first one in the entire time the house was on the market. I only wish we had listened to our friend about talking to Ronald when we were hiring the second time around.
Ronald went above and beyond in providing communication, feedback and expediency in placing our home on the market, as well as in all aspects of marketing the property. While other realtors were telling us it would take two weeks to implement many of their marketing plans, Coast-to-Coast promised two days and actually delivered! Everything within their power was up and running within the proposed time frame.
On top of that, the level of communication was incredible. I received more emails and updates online in a few weeks than I had received in the many previous months of listing the property with the other two agents combined. I definitely felt like I had insight into what activities were being performed at all times.
Additionally we were really impressed with the level of creativity employed in their marketing strategy, as well as the unique touches they made in the house for potential buyers coming through for a showing. I personally believe the extra work Coast-to-Coast does makes the property more memorable for the buyer, creates a better overall showing experience, and also helps a potential owner better envision the house as "their home."
We look to close on our house in just a few days, and Ronald has been on top of every aspect of this part of the process, never stopping to ask "Is there anything more I can do for you?" We are incredibly grateful for Coast-to-Coast's service, guidance and attention to detail each step of the way. I've already raved to friends about what a wonderful experience we've had with Coast-to-Coast Realty, and I don't hesitate to tell them all, "If I was selling another home, I would call Coast-to-Coast immediately and so should you!"
Sincerely, Holly Weese, Wesley Chapel
Ronald, We want to Thank You for everything that you have done to make our dreams of Home Ownership come true. We are overwhelmed with your generosity. It is truly awesome the steps that you've taken to make every part of our journey much more relaxed and happy. The welcoming site of a Christmas tree added such warmth to an already exciting occasion of opening the doors to our new home. The children were elated that Santa had arrived before them into our living room. PV and I could not believe what a beautiful gesture of welcome that you made us feel. We wish you both all the luck and miracles that Christmas brings by and hope that your year will be filled with joy and prosperity. Happy Holidays to you and your families.
Best regards, The Joshi Family, New Tampa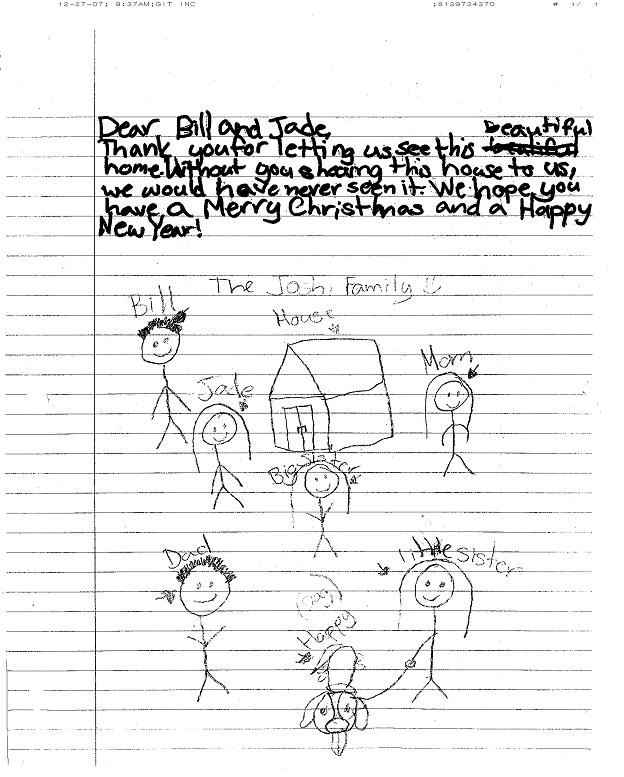 Hey Ronald, I viewed the activity report that you sent to Ryan's e-mail. I just want to say THANK YOU again for all the work you are doing! You have been such a wonderful realtor and "caring ear" when we needed to vent. We will certainly pass your name on to anyone that needs a realtor and when the day comes again that we buy a new home, you will be the one we call for sure! Christina Zook, Wesley Chapel
Ronald are a great team! They made purchasing a home easy, fun, and stress-free. They did a wonderful job of figuring out what we wanted in a home and helped us to find it! Ronald was extremely knowledgeable and always willing to answer any questions or concerns that we had. Both Ronald was always on top of everything that needed to be done. Ronald also helped us to rent out our home in Wesley Chapel. He helped us to showcase the positive aspects of our home in order to get it rented out quickly. Within no time, our home was rented out at the price we wanted! Ronald makes sure to go the extra mile to make their customers happy. We wouldn't trust our most valuable assets with anyone but Coast to Coast. We can truly say that they have made us into RAVING FANS! Sincerely, Steven and Amanda Ray, Orlando
John and I want to thank you so much for all of your help we so appreciated it. You have been outstanding!!!! When we get settled in the next few weeks we would like to have you and Ronald for dinner as our thank you to you. Thanks again, Debbie and John Kemp, Lutz
I thought the communication by both Ronald was top notch. They kept me abreast of all new properties available in my price range and area that I wanted to buy in. He also kept me updated on the contracts we had pending; which in this market with all of the short sales can be very frustrating. Ronald gave me weekly updates even if nothing was happening with each property. They always returned calls and/or email questions promptly. They never left me guessing. Ronald wase very professional and courteous at all times. Ronald must have shown me what felt like 50 homes in a 6 month period; until we finally got a bank to actually look at one of our short sale offers. It felt like it took forever. But Ronald always showed up with a smile and a can do attitude. I would definitely recommend you to family, friends, and neighbors should the need arise! Tara Vitale, Lutz
Ronald, You have always upheld by best interest- Ronald knew my likes and dislikes and was proactive in describing properties to ensure that I knew the full picture prior to making an offer. You can't improve perfect! Thanks for all of your help! Danielle Proctor, Riverview
My home was listed with Prudential and Keller Williams for over 357 days. Then I talked to Coast to Coast Realty about selling my home. They promised to sell my home within 120 days. I was very skeptical. However, we were under contract in 30 days at 97% of my price. In addition, they helped me buy my dream home $10,000 below value. Their service was excellent and they always placed my needs first. I am a Raving Fan! Donna Brown, Wesley Chapel
Ronald, We just wanted to let you know how glad we are that we hired Coast to Coast Realty to help us buy our new home! You both went out of our way to help us and were professional, honest, and always looked out for our best interests. I loved that we were always able to reach one of you if we had a question or an issue that popped up. Finding a perfect home felt daunting, but Ronald helped us narrow down exactly what we wanted! We absolutely love our new home and can't wait to move in! We will certainly call you the next time we buy or sell a home!! Rich and Amber Logan, Wesley Chapel
Ronald, John and I so appreciate all of your help and being very concerned for us. We are so happy we finally sold, being a short sale. You went time and time to our lender to get the deal done. Because of this, and only for this reason, were we able to sell our condo. Just keep doing what you have been doing… caring for the people you are working for. You are a great team! I would recommend you to anyone. John and I are so very Grateful for all you have done for us. John and Debbie Kemp, Lutz
Coast to Coast is WONDERFUL! They really get to know what you want in a home and are right with you every step of the way. Ronald is always very communicative in all aspects of your home buying experience. Being a first time homebuyer, all of my questions were answered in easy to understand terms and always in a timely manner. My personal experience was excellent and I highly recommend this team! Rebecca Schaffer, Zephyrhills
Dear Ronald, John and I were DELIGHTED to receive the lovely card from you. Your kind words and well-wishes are so very thoughtful . We were taken BACK by the generous Gift Card. We walked inside and there on the kitchen counter lay a huge pile of quarters ….. and now we were taken back again!! I know it was from that silly bet John made with you… you have been too good to us! As we walked through the house again , it is even nicer than we thought originally. The floor plan is PERFECT, the furnishings are QUALITY and the view just puts a heart at complete peace. We NEVER would have thought to look into homes at Lake Bernadette and we are grateful to you for your exemplary work and professionalism in presenting this property to us and remaining courteous, helpful and knowledgeable throughout this home buying experience. This is not just A home for my parents to live in, it is the PERFECT home for them to be in. With Utmost Appreciation, John and Karen, Zephyrhills
By the way I would like to take this time to thank you, Ronald, for all of your help throughout this process. I have been fortunate to have been able to work with such professionals as Coast to Coast along with Ken Ynes and Cindy Jewitt at DHM. Let me tell you first hand, Ken Ynes has been absolutely phenominal to work with throughout this process. I have never met anyone who is more knowledgeable and more into helping people in as you all have been in their profession. I will whole heartedly recommend all of you to anyone I know who is looking to buy a house. Valon Osmani, Wesley Chapel
Ronald made our dream of buying a vacation home in Florida a reality ! We were purchasing a short sale and were confused and frustrated with the lengthy short sale process and they were there for us at every turn and never made us feel like we were a "bother" to them with the many phone calls and questions we had. They really helped us make the purchase process manageable. Ronald was professional, knowledgeable, supportive, accomodating, and gracious! We will always be "raving fans"!! Shawn and Kelly Smith, Fort Myers (Arlington, WA)

Ronald, Good news is not always easy to come by so thanks for this. Really pleased. Well done for your input and thanks to you for making our lives easier with efficient management and communication. Dave Sammel, Wesley Chapel
Hi Ronald, We just wanted to thank you for your professionalism, your integrity, (what you say is what you do), your helpfulness that was above and beyond most everyone. Your ability to keep things on track and moving. We would highly recommend the Coast to Coast Realty Team to anyone who would like a professional realty team that gets the job done (not a part time when I want to agent).
Sincerest Thanks, Jerry and Lillian Powers, St. Petersburg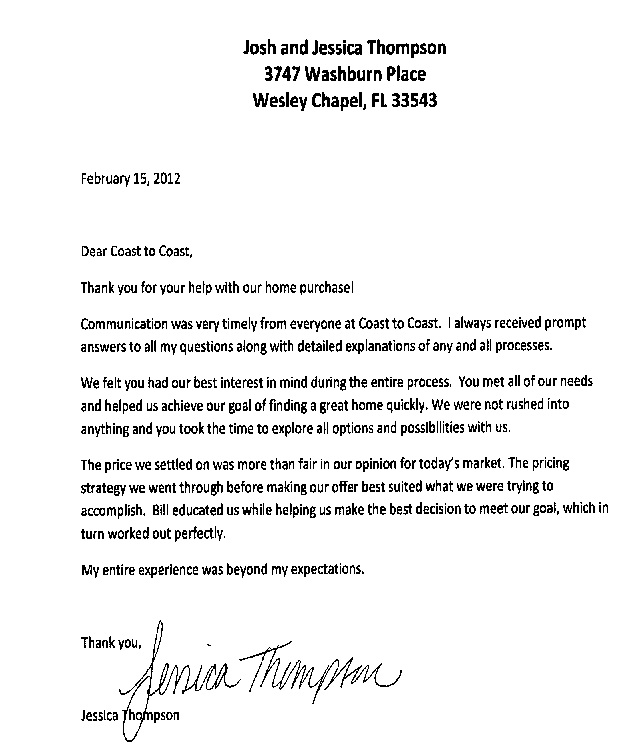 Hello Ronald, I just wanted to convey to you how grateful John and I are to have the villa rented ; you and your staff continue to not only meet , but exceed our expectations. It is always such a pleasure to do business with you. John and Karen Roth, Wesley Chapel
While our home was listed, we always felt like we were kept in the loop and knew where everything was going at all times. The home showings were fast and furious with Ronald's hard work and innovative marketing. Ronald's advice on what not to update and what to update before putting the house on the market saved us money and time. Given the number of showings and area, we got a fair price and the timing worked out very well for us to move out when we felt was best. We were well informed during all of the process and everything worked out very well for us in the end. The whole team was very good at keeping us in the loop and we appreciate all the little things they helped us with during the move and after. Mike Gamble, Tampa
My husband & I had a really great experience with Ronald & his team at coast to coast. We started our home search earlier this year and Ronald was by our side every step of the way. We gave him a challenge of finding us our first home, I wanted something new that was move in ready and my husband wanted land and didn't want to live in a deed restricted community. With time and patience over the last year we finally closed on our home just in time for the holidays. We couldn't be any happier, it's perfect we got what we both wanted with our first home. Audrey Dekilder, Wesley Chapel, FL
We are extremely happy to work with Ronald and his assistant. They are both excellent and really take care of your needs and concerns. They provide excellent customer service and they make you feel very comfortable with the entire process. I recommend Ronald without any hesitations. He gets you the best price and knows the area very well!! Guillermo and Mary Blanco, Wesley Chapel, FL
Ronald went above and beyond for me! It was a complete pleasure working with him. I was a first time home buyer and wasn't really sure what I truly wanted. I would tell him want I was looking for in a home and when he found exactly that, I changed my mind. He never once showed any sign of frustration with me. After time I felt that he really got an understanding on what I truly wanted. And he did, he found me the house with all the specifications i was looking for! perfect house for a first time home buyer! I felt comfortable at the closing table with Ronald by my side, almost like a family member. I knew he was looking out for me! I honestly can't thank Ronald and his staff enough! Buying a house was no walk in the park but Ronald made it a lot easier!!
Thank you Ronald! Justin Csanadi, Lutz, FL
We had a very positive experience with Ronald selling our home and purchasing a new one. They are both very professional and helpful. Would definitely recommend! Briana Willey, Wesley Chapel, FL
E
xcellent service from Ronald, helped us a lot during our home purchasing process, prompt, honest, awesome realtor! he even helped us find a good lender and helped us negotiate extensions to the contract. top service all the way !!! highly recommend for both buyers and sellers.

Romy Soto, Tampa
Ronald is amazing. Their personal touch and caring attitude helped me to be comfortable in this process. Ronald was always available to listen. I would absolutely recommend. Annette Washington, Land O Lakes
Over the past five years, Ronald Steers has assisted me with locating and buying two homes, and with selling two homes. The most recent was last week. He demonstrated great expertise and high integrity with every transaction. Ronald's office support person is extremely knowledgeable and courteous, and she provided very helpful coordination in all aspects of the transactions. I would not consider using any other real estate agent, and I heartily recommend Ronald's services without reservation. Amanda Ray, New Tampa
I knew two other families that Ronald was able to help in finding their dream homes. So with their success we reached out to Ronald, who also help us in finding our dream home. He was able to guide us in every step and his knowledge surpasses my expectations. If you are looking for that perfect home then Ronald Steers is the agent you need. Joseph Waller and Yonique Hacker, Wesley Chapel
Ronald is a great realtor! He listens to your demands and understands your situation. He will adjust to every situation and understand when to be patience and when to take action! During my house hunting experience with Ronald, he took our situation like a member of my family! Which ended in the best possible outcome, my family Dream House!! Thanks Ronald!! Wilson Salgado, Wesley Chapel
Ronald was referred to me by a family friend and I count myself fortunate to have had him as a realtor. His decades of experience and local knowledge were a great comfort to me as a first-time home-buyer in the Tampa Bay area. As a young professional purchasing a first home, Ronald was very respectful of my budget and was sensitive to feedback about my commuting needs and areas of interest. He helped me to maintain perspective due to the breadth of his experience and provided pointed guidance when requested and appropriate. When we finally found the right home for me, Ronald confidently and expeditiously secured the contract for sale and guided me through the process all the way to closing. He even referred me to a great mortgage broker! He and his associate both moved mountains to ensure that I got my dream home and I will be forever grateful! I would highly recommend Ronald to anyone I know looking for their next (or first) home due to his professionalism, responsiveness, industry knowledge, and helpfulness! Charlene Cohen, Tampa
Whether you are a buyer or seller, we would love to make you a lifetime client as well! Please give us a call if you (or someone you know) would like to find out more about how we can help!
Warmly,
~ Management